Introducing the AmberAir Compact S R-H: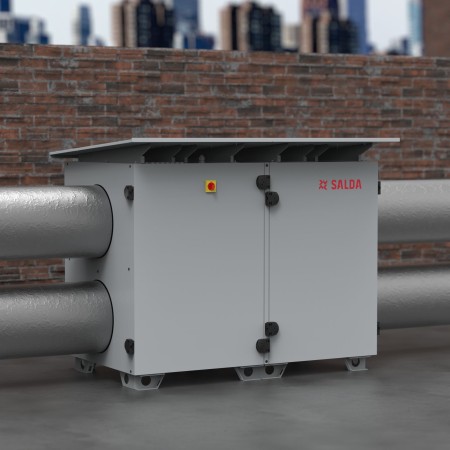 The Future of Ventilation is Compact, Efficient, and Innovative
Welcome to our latest innovation in the world of ventilation – the AmberAir Compact S R-H. This product stands out in the market with its unique frameless casing, embodying a blend of high efficiency, compact design, and advanced technology. Let's dive into what makes the AmberAir Compact S R-H an exceptional choice for modern ventilation needs.
Unparalleled Design and Features
The AmberAir Compact S R-H boasts the best frameless casing on the market, a testament to its innovative design. It comes with impressive specifications including L1, D1, T2, TB2, and F9, ensuring top-tier performance. What sets this unit apart is its truly compact nature. Everything you need is housed within the casing - from heaters and energy-efficient fans to reliable automatics and a high-performance rotary heat exchanger. This all-in-one design makes it not only efficient but also space-saving.
Simplified Solutions for Modern Needs
In today's fast-paced world, simplicity and efficiency are key. The AmberAir Compact S R-H offers just that - standard solutions that are easy to select and install. With integrated heating and cooling options, it caters to a wide range of environments, making it a versatile choice for various applications.
Revolutionary Air Handling
This unit is more than just a ventilation device; it's a complete solution for maintaining the perfect microclimate. It efficiently manages the fresh air supply and spent air removal, ensuring a consistent and comfortable environment. Whether it's a bustling commercial building, a cozy office, a vibrant HoReCa setting, or an educational institution, the AmberAir Compact S R-H adapts to and enhances any space.
Designed for Diverse Environments
The AmberAir Compact S R-H is engineered for versatility. Its compact units require minimal space for installation, making it an ideal choice for areas where space is at a premium. It's also incredibly easy to install – a true plug-and-play solution. With its well-insulated casing, it promises significant energy savings, a feature that's not only cost-effective but also environmentally friendly.
Rigorous Testing for Unmatched Quality
Quality and reliability are at the core of the AmberAir Compact S R-H. It has undergone rigorous performance testing by an independent third-party lab, ensuring that every unit meets the highest standards. Furthermore, it boasts Eurovent certification, providing an extra layer of assurance in its quality and performance.
Flexible Installation Options
Understanding the diverse needs of different settings, the AmberAir Compact S R-H can be mounted both indoors and outdoors. It offers an optional roof for outdoor applications and AlZn versions are available for enhanced durability.
Immediate Availability
We understand the urgency of modern business and environmental needs. That's why the AmberAir Compact S R-H is available now, ready to transform your ventilation experience.
Beyond Ventilation: A Universal Solution
The AmberAir Compact S R-H is designed to be universally adaptable. Whether you have a warm water supply or have a pre-installed heat pump system, this unit seamlessly integrates into your existing infrastructure. With options like an integrated electric heater, water changeover, and DX coil, it caters to a myriad of settings and requirements.
Engage with Us for Personalized Solutions
To fully understand and experience the capabilities of the AmberAir Compact S R-H, we invite you to book personal training with your key account manager or through our dedicated customer service at cs@salda.lt. Our experts are ready to guide you through the many benefits and applications of this innovative ventilation solution.
Committed to Sustainability
In line with our commitment to a greener future, the AmberAir Compact S R-H is designed with sustainability in mind. Its airtight design, energy-efficient EC fans, and demand-controlled ventilation not only save energy but also contribute to a healthier environment.
Ready to Transform Your Space?
Discover the AmberAir Compact S R-H today. Contact us for more information, purchase details, or to book a demonstration. Embrace the future of ventilation with a solution that's compact, efficient, and designed with your needs in mind.